Tech City has recently released its TechNation 2017 report. The findings are great news and rather flattering for the UK digital sector.  As a supplier to many digital firms, Greenfield IT has seen a surge in demand and salaries. Mentioned in the report, it did surprise us just how far ahead of the rest of Europe we are.
These are the headline figures:
The UK's digital tech industry turned over an estimated £170 billion in 2015. Which is growing at twice the rate of the wider economy and is key to boosting the UK's wider economy. With a contribution of £97 billion in 2015.
The digital tech industry generated a further 85,000  jobs over the past year from 1.56 million in 2014 to 1.64 million in 2015. Creating jobs at double the rate of the rest of the economy.
Similarly, since 2012 there has been a 13% increase in the advertised salaries of digital tech posts. Compared with only a 4% rise in those of non-digital jobs.
Tech investment in the UK reached £6.8bn in 2016, more than two times higher than any other European country. Which is significantly more than its closest rival, France, which secured £2.4bn.
Tech Nation 2017 shows that the average advertised salary for digital-tech jobs has now reached £50,663 a year, compared with £35,155 for the average non-digital salary, making it 44% higher than the national average.
TechCity – "Our in-depth analysis of over 1000 economic and business data points, thousands of survey responses and interviews with tech founders, as well as insights from our community partners across the UK, shows that when we compare digital tech investment, talent and skills and collaboration opportunities of the UK compared to other European countries the results are clear and undisputed: The UK is the digital capital of Europe."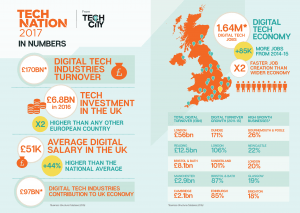 Greenfield IT Recruitment provides recruitment support for both clients and candidate roles. Helping clients define and execute their recruitment process and helping professionals with a high calibre skill set to progress within their careers. To find out more information, Contact us or visit our find our job page.
Source – www.techcityuk.com