Technology in Sport – Are The Four-Times World Cup Winners Paving The Way in Technology, Domestically Using Amazon Web Services?
Bundesliga has become known for leaders in implementing technology in sport. According to an article by SportsPro, the digital revolution has been well and truly embraced. This may come as a shock to the wider football world. However, Bundesliga has become the most engaged across all digital channels in the European league. This is not only from a player setting but also from a technical standpoint. They are using technology to fuel the long-term strategy of the league. Their aim is to reach more fans, more often in more ways.
Involvement of Technology
Earlier this year Bundesliga announced they would be using Amazon Web Services (AWS). This would allow them to deliver more in-depth insights into the live broadcast of Bundesliga fixtures. In addition, to using AWS, they would also be using various other technologies, such as artificial intelligence (AI) and machine learning. Implementing these technologies will personalise the fan experience but also deliver real-time statistics to predict future plays and outcomes. It will also allow match footage to be streamed across multiple devices.
The Deutsche Fussball Liga's (DFL) executive vice president, Andreas Heyden was quoted as saying "The agreement with AWS marks an important evolution of the investment already made in innovation by the Bundesliga over the past two decades. Previous major technological projects like comprehensive match data collection. The production and distribution of the base signal for all matches and the creation of its International Product Portfolio have allowed us to deliver a consistently high-quality product for our partners. All of this fuels the Bundesliga's drive to deliver a world-class soccer experience for its fans. The Amazon Web Services cooperation will help the DFL take this approach to the next level."
Embracing Technological Advancements
Bundesliga has adopted technology without any fuss just embracing the technological advancements around them. Spidercam is just one of many innovations Bundesliga has brought in to improve, deliver and enhance the viewing experience for its followers.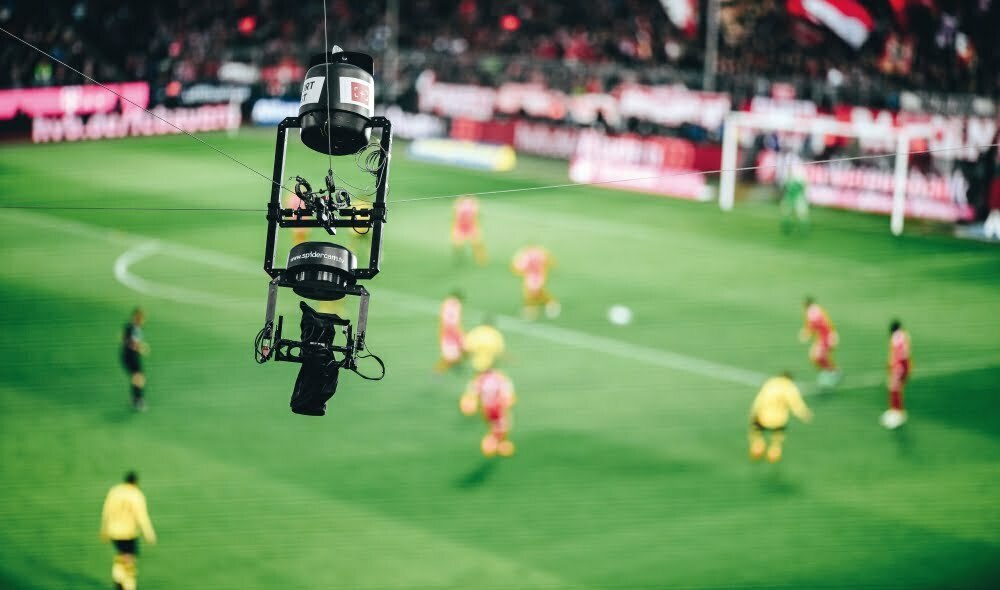 Image from the Bundesliga's official Facebook page
Digital Embracement
For many football followers, the digital embracement that Bundesliga is adopting may not actually come as a surprise. Implementing goal-line technology in 2015, broadcasting in UHD in 2016 and introducing VAR in 2017.
Tech and Digital Skills for the Sports Industry
Greenfield IT has a team dedicated to recruiting tech and digital skills for the sports industry. Supporting a number of major UK sports clubs and governing bodies. We also work with a number of sports tech firms whose products and services are focused on the sector.
Follow us for selected sports industry tech insights and career opportunities in this space. To find out more about how we can help your career in sports tech, or should you require support building your team. Contact Eleanor Carter.
This is a fantastic piece by SportsPro. To read the full article click here.